Caherleaheen National School are nominated as Inver's Leading Lights by Inver partners Kellihers in Tralee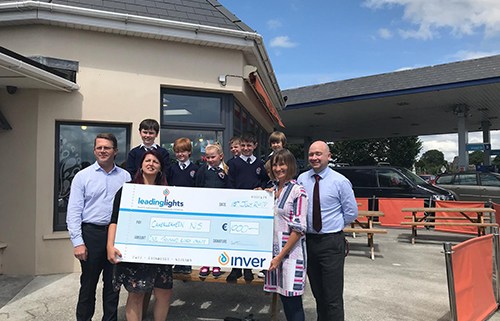 Colm Kelliher and Dagmar from Kelliher's  Inver/Mace in Rathass, Tralee nominated their local national School in Caherleaheen as their community leading lights.  Some of the students joined their Principal Mary Connolly to receive the cheque of €1000.
Principal Connolly thanked Inver and Colm and Dagmar for nominating the school as their leading lights and Mary said the donation was a huge investment for the  school and would make a big difference. They are nominating the funds towards their maths programme  and have purchased 'manipulates' which are used before students begin to study pure math's and will be used for Senior infant, first and second class students.
We hope the children enjoy learning Maths and it was a pleasure to meet the students and we hear they enjoyed  making their own ice-creams after their photo!