Become an Inver Forecourt Partner
We have what it takes to ensure
your business succeeds!
Inver Service Stations launched in 2012. Let us help you grow your business with the Inver Advantage.
Our forecourt partners reap the benefits of dealing directly with a major Irish fuel supplier. Our ability to buy and store large volumes of fuel at our JV terminal in Foynes, Co. Limerick allows us to offer Quality Assured fuels at very competitive prices.
Our current forecourt partnerships have all significantly improved their business in terms of volume and margin.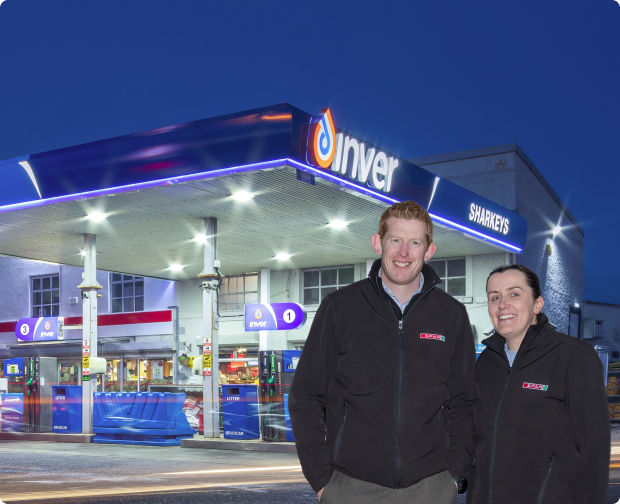 Inver offers

Inver Advantage
What Inver offers our
forecourt partners
In today's competitive environment it is vital to partner with the best and gain the most for your business. As our forecourt partner we can offer you:

Better Prices
Competitive prices across all fuel ranges. We buy our product directly from reputable European refineries for our JV Terminal.

Quality Assured fuels
All our fuels are 100% traceable from refinery to our JV terminal to all Inver Service Stations.

Direct Fuel Supply
Direct fuel supply from our JV state-of-the-art terminal in Foynes, Co. Limerick, plus the benefit of fuel supplier knowledge and expertise.

Excellent Credit Terms
We offer all our forecourt partners' excellent credit terms.

Fuel Availability
Guaranteed fuel availability and on time delivery from our terminal on a 24/7 hour basis.

Support
We have an Irish based sales and support team who are knowledgeable, responsive and quick to action.
Contact our experienced and knowledgeable team to learn more about becoming an Inver Forecourt Partner.
Our
Inver Advantage

offers you

As a major Irish fuel supplier, we provide direct and reliable fuel
supply at competitive prices.

Direct Advantage
As one of Ireland's largest fuel supplier we provide a direct and reliable fuel supply at competitive prices.

Sales Advantage
We provide strong and knowledgeable local, regional, and national marketing support.

Service Advantage
Inver provides easy fuel ordering with on time delivery, fuel cards, inventory management and payment options.

Value Advantage
Our innovation and expertise in the fuels business allows us to develop relevant and differentiated products, services, and credit support.

Fuel Advantage
Inver delivers key benefits to motorists including quality assured fuels, guaranteed tractability from refinery to pump, fuel price information and fuel additives.

Brand Advantage
Inver- branded forecourts are bright, modern, safe and clean with fast, efficient and friendly service.
Testimonials
Inver are always honest and straightforward to deal with and have very competitive prices.
Paul Lynch
Inver Freshford, Co. Kilkenny
Since joining Inver, I've increased both my margins and my volumes. My fuel prices are so competitive, I'm driving more footfall into my Spar shops, and that is all adding to my turnover.
Norman Foley
Inver Fossa, Tralee, Killorglin, Nenagh