CARI are Inver's Leading Lights nominated by our partners at Inver Fairgreen, Limerick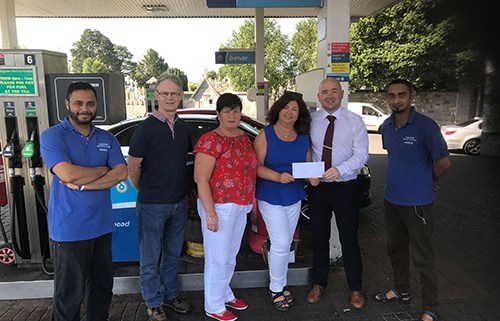 CARI (Children At Risk in Ireland) is one of Ireland's leading voluntary providers of therapy to children, families and groups affected by child sexual abuse. CARI are Inver Fairgreen's Leading Lights nomination for 2018. Mary, Helen and Vincent were at the Fairgreen Service Station to receive their €1000 cheque on  behalf of CARI.
Mary thanked Inver for the donation and noted it would be put to great use at their offices on the Ennis Rd. CARI provides counselling and therapy services for children and families affected by child sexual abuse.  They look after children from the ages of 3 to 18 and they also assist the parents
Mary stated 'Currently there is a big waiting list and the Inver Leading Lights donation will get children off the waiting list and give them access to much needed therapy.'
We thank the staff at CARI for the incredible work they do and thank Abdul and John from Inver Fairgreen, Ballysimon for nominating this deserving organization.