Castlebaldwin in Co. Sligo have a new Inver forecourt.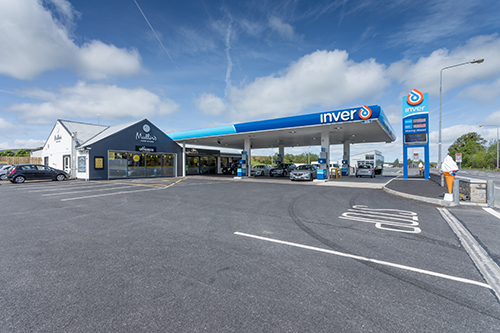 We are delighted to welcome this vibrant new forecourt  in Castlebaldwin to the Inver forecourt family.  Located on the N4 artery through the North West  this new Service station is bringing with it some new offerings to the region. The station opened in January 2018 and is a modern, bright service station, providing an incredible array of services to its customers with an offering arguably unrivalled in the Sligo area.
The previously closed filling station received a complete revamp. A brand-new Inver Service Station was opened. This is the first Inver Station in the region as the network expands across the country and we are delighted to partner with John Mullin.
Mullin's Foodstore Castlebaldwin has a spacious forecourt with easy access for motorists to enter and exit the service station. Customers have access to 8 fuel pumps that are generously spaced to allow motorists to fuel and pass each other comfortably. The forecourt also has a full range of Solid Fuels, Bottled Gas, Air and Water & Vacuum facilities and ample parking and the totem is fitted with a High Def Info Board advertising the daily offers roadside.
Alongside Inver, John Mullin and his team launched their take on convenience retailing with their Mullin's Foodstores Deli, Coffee Dock & Convenience offering. Mullin's Coffee Dock is a new concept and shows their attention to detail.  Mullins offer their own unique coffee, brewed from specially selected beans lovingly roasted for Mullins Foodstores.
A full high-convenience grocery store is on site with deli, bakery and a seating area with the restaurant can accommodate 64 people. Diners have access to complimentary Wi-Fi and plugs and USB outlets are also available for diners to recharge their phones, electrical devices and laptops while enjoying their food and beverages on site. Large Screen TV & complimentary newspapers are also available to browse while any freshly prepared food ordered is assembled.
An exciting new addition to this fabulous service station is Chipmongers… serving Traditional Fish and Chips. This brand is making big waves in cooked to order food serving "prepped from potato "real" chips". Chipmongers has enjoyed phenomenal interest and is a strong addition to complete the offering in Castlebaldwin.
Ben Lenihan, Inver's retail director noted ' Castlebaldwin is a fantastic Service Station and a very welcome addition to our expanding forecourt network.  We are excited to have a partner in Sligo and look forward to announcing more Inver Service stations around the country in the near future.'