Inver launch our 3rd year as sponsor for Munster Rugby Junior Supporters Club.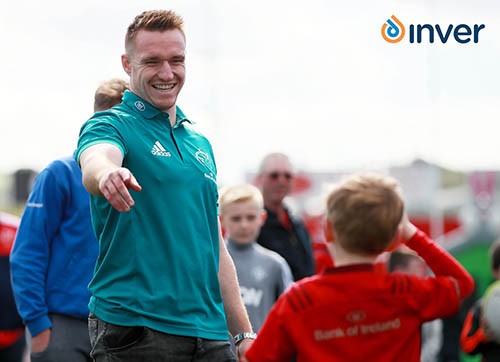 Rory Scannell signed on as Munster Rugby Junior Supporters Captain for the new season and spent a fun afternoon interacting with young supporters at the Play on the Pitch Event this month.
Chris O'Callaghan, CEO of Inver, stated, 'We are delighted to sponsor 5,000 free memberships again this year for young people to join and be part of the Munster Community. Our vision for the Junior Supporters Club was to create a community for young people, boys and girls who enjoyed rugby and are Munster fans to connect with the team and each other.
It was very important the junior club would be open to young people who play rugby but also boys and girls who love the game but don't play rugby. The junior club has been very successful since it's inception in 2016 and Munster Rugby have some superb plans for the junior club this year.
Membership got off to a great start with the 'Play on the pitch' event and we all had the opportunity to check out the 3G pitch and to meet this years junior Captain, Rory Scannell, his brother Niall and Shane Daly. Doug Howlett and Donncha O'Callaghan also added a lot of fun games to the day.'
Munster's Commercial Director, Doug Howlett said "we are delighted with our continued partnership with Inver. They are committed to providing a fun, creative environment for young Munster supporters and they share our passion in continuing to strengthen this young community and to help us pass on our shared values of inclusion and education. We have a very exciting year planned for the Junior Club and we look forward to continuing this journey with Inver"