Inver Leading Lights gives sponsorship towards a Greenhouse for children to grow plants via Barraduff Tidy Village Group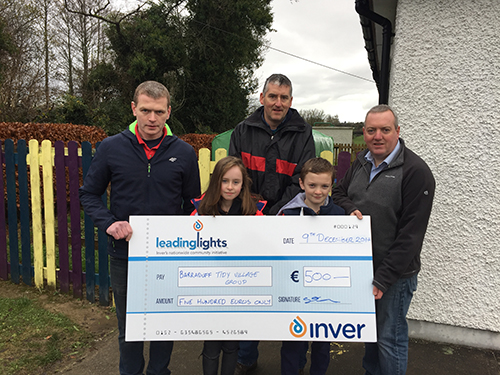 Inver forecourt partner Mick O'Donoghue chose some very inspiring and innovative nominees for Inver's Leading Lights programme.
Barraduff Tidy Village Group (BTVG) was established 2 years ago to improve the common areas in Barraduff.  To include the local children in their community the group constructed a Poly Tunnel in the local school  and are teaching the students gardening skills. They learn to plant and grow trees, shrubs,  and flowers. These plants are then transplanted around their local community,
Barraduff Tidy Village Group are improving the local area and teaching children vital skills they can take with them throughout  their lives. They are motivating children and giving them confidence in their own abilities, while at the same time instilling children with pride in their local community of Barraduff.
Congratulations to all involved in this wonderful initiative!
In the picture are Mike  O'Donoghue, Timmy O'Sullivan and Stuart Kelly, Kids are Maura O'Sullivan and Lee Lelly