Inver Moving Ahead in Cork City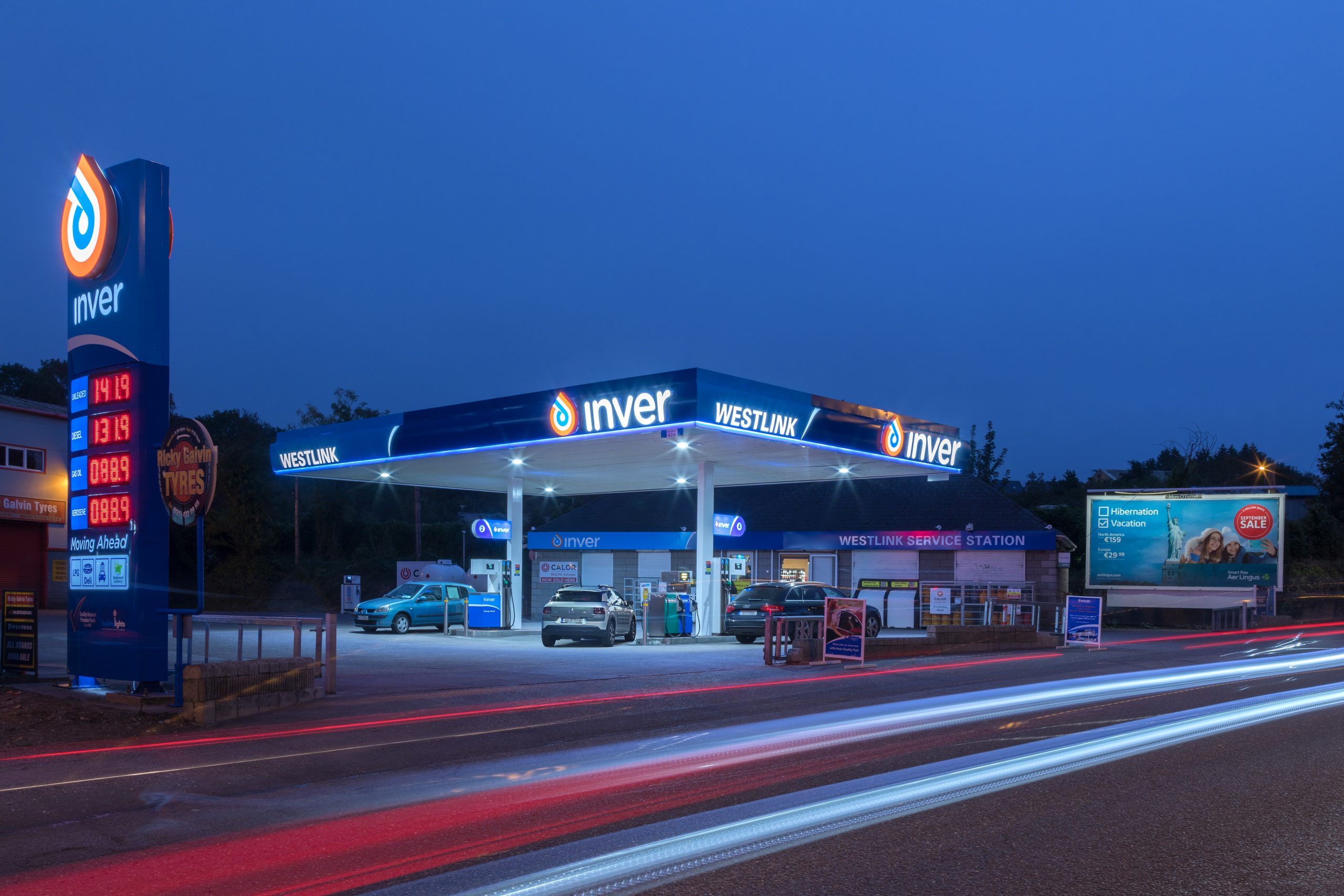 Ireland's fastest growing forecourt network continues its expansion with Inver's first branded forecourt in Cork City.  Westlink Service Station joined the Inver network, and Ben Lenihan, Inver's Retail Director stated, 'we are absolutely delighted  to welcome Joan and Garry Virgo to the Inver family.  Westlink is our first Cork City based forecourt and a wonderful addition to our continuously growing network.  We look forward to serving our premium assured quality fuels to Cork City motorists!'
Built in the mid 90's Joan and Garry took over Westlink station as first time forecourt owners in 2002.  Joan's original plan was to find a viable location for a cosy community based coffee shop serving homemade baked goods from locally sourced producers.  'When we visited Westlink, we liked the location as it had a great mix of community and businesses in the area. Westlink looked like a good fit for us, and it was!' said Joan.
It was essential to us to get to know our community and make sure our customers felt comfortable and welcome on our forecourt and in our shop,' stated Garry.  Initially there were three of us, including Joan's brother working at westlink, now we have a staff of nine. All our staff are from local community.  
Joan said, 'I wanted to create a business with a personal touch, it's definitely one of the key elements of our family business.  Part of that personal touch is serving freshly prepared home cooked food to our customer on site. Every day when we first opened when I worked in the deli, I had a chat with at least one customer daily to get to know them better.  Now I know most of our clients by their first name. One of my favourite parts of the business is dealing with people and getting to know them.' 
Ben introduced Garry and Joan to the potential of the Inver Advantage a few years ago, 'When I first met Joan and Garry, I thought they were a very dynamic couple.  Their forecourt is well situated within Cork city and is a very successful business serving a unique mix of business and community customers,' said Ben.   
Garry stated, 'Over the years we had built up a great relationship with Ben.  When the time was right for us to rebrand our forecourt we were very comfortable talking with Inver.  Ben and the rest of the team are professional, approachable and easy to talk to. The Inver Advantage made sense to us!  Inver's attention to detail and their transparency throughout our discussions and rebranding really inspired us with confidence that we made the right decision.  
Inver's pricing and quality fuel testing processes are exemplary. Inver's brand is also visually strong and appealing.  The addition of the Suresite health and safety assessment package was another key component in our decision. I really feel this is a very valuable element to the Inver package and support system for any forecourt owner. 
Last but not least, community matters to us and Inver's Leading Lights nationwide initiative really resonated with us.
With more new forecourts set to have join the Inver network within the coming weeks, this looks to be a bumper year for Inver.  Ben Lenihan, Inver's Retail Director noted, 'The Inver forecourt network is growing continuously and expanding across the country.   It is very gratifying to see the brand and the Inver Advantage resonate with the forecourt owners of Ireland. We look forward to engaging with potential partners and presenting Inver's brand proposition.  We are looking forward to a fruitful partnership with Joan and Garry and wish them continued success at Inver Westlink.'