Inver Sponsored event for Munster Rugby Junior Supporters Club – Play on the Pitch.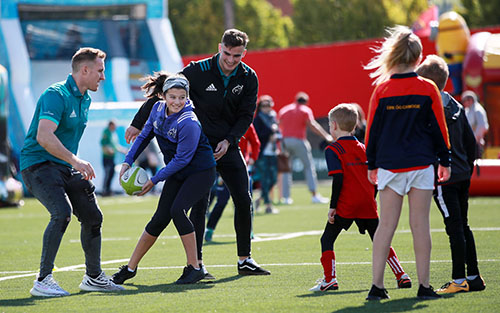 Munster Rugby Junior Supporters enjoyed a fantastic fun day at our sponsored 'Play on the Pitch' in Irish Independent Park, Cork.
They met this season's Munster Junior Club Captain Rory Scannell and played tag rugby with Rory and his brother Niall and Shane Daly.
Bouncy castles were placed around the sides of the new 3G pitch and Junior fans and their parents all enjoyed the opportunity to check out the new pitch. Lots of fun activities were organized for the day.  Junior fans took the opportunity to get their  jerseys and t-shirts autographed and took selfies to create memories of  this up close and personal time with the players
Donncha O'Callaghan and Doug Howlett joined in the days festivities organizing games such as races on the pitch, passing the rugby ball down the line and some fun and hilarious sessions of tag rugby – Donncha's team v Doug's team.
Lots of girls and boys went home tired but really happy, it was a really fun event, and Inver were delighted to sponsor the day to launch this season's Junior membership for Munster Rugby.
Membership opens October 4th, 2018 for the new season –  there are 5,000 free memberships available for enthusiastic young Munster fans.