Inver's 50th branded forecourt opened in Coachford.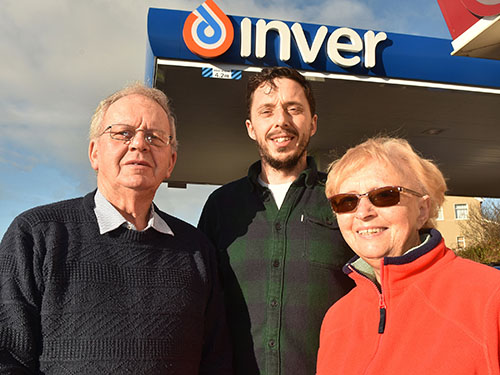 Inver, has opened its 50th Inver forecourt in Coachford Co Cork, partnering with Ronan Cooney and his family. Inver Coachford is located on the beautiful scenic and historic route to Killarney and is a focal point of the community there.
Ronan Cooney who is the 3rd generation of the family to run the business said, "Our business was first opened by my grandfather James Cooney 75 years ago and we have a long and trusted relationship with our home town and are truly committed to our customers and our community. We serve a lot of tourists during the summer months and our location provides a perfect stop for visitors on route to Killarney".
The history of the forecourt has been one of continual improvement, Ronan pointed out that "The forecourt has changed for the better over the years and in 2002 we carried out a significant rebuild of the forecourt. We also opened a convenience store to accompany the fuel offering for our customers. Some very popular additions to the shop offerings are our pizzas and smooch ice-creams. We try to provide as many services as possible for our customers, so we also sell solid fuel and calor products.
Ronan noted, It's great to be affiliated with a company that recognises the importance of communities and gives us the ability to support worthwhile local organisations through their wonderful Leading Lights programme. We just presented this year's Leading Lights cheques to the local national school and to our local Foroige Club and they were delighted with the support from Inver"
Ben Lenihan Inver's Retail Director said, 'We warmly welcome Ronan and the Cooney family to the Inver forecourt network and we really wanted to mark this milestone for the company and Inver Coachford. Reaching our 50th branded forecourt was a significant achievement for the company and the network, and we are also delighted to have gone well beyond that number as new forecourts continue to join our network.