Moving Ahead into 2020 Inver's Forecourt Network expands at pace across the nation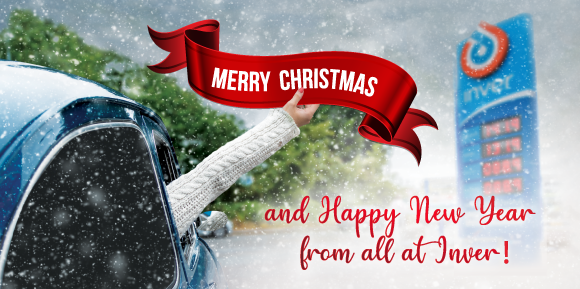 'Inver's forecourt network, has enjoyed a very successful 2019, the network has expanded significantly around the country,' stated Ben Lenihan, Inver's Retail Director. 'Some significant mile stones occurred this year including the addition of Westlink our first Cork City based forecourt. This forecourt is well situated within the city and is a very successful business operated by Joan and Gary Virgo. Westlink serves a unique mix of business and community customers, and a wonderful addition to our continuously growing' said Ben.
Key elements of Inver's 'advantage package' continue to resonate with Irish forecourt owners, as highlighted by Gary Virgo, Inver Westlink, Cork. 'Over the years we had built up a great relationship with Ben. We were impressed with the 'Inver Advantage'. Inver's pricing and quality fuel testing processes are exemplary and Inver's brand is visually strong and appealing. The addition of the Suresite health and safety assessment package was another key component in our decision. I really feel this is a very valuable element to the Inver package and support system for any forecourt owner.
Last but not least, community matters to us and Inver's Leading Lights nationwide initiative really resonated with us.' Two new forecourts in Leap and Ballylickey are in the process of branding with Inver. 'We are delighted to welcome Keith Cronin and his staff to the Inver network family,' said Ben. 'Inver's community commitment through Leading lights, our strong brand, pricing and exemplary customer service continues to resonate within the market place.'
Two new forecourts in Leap and Ballylickey are in the process of branding with Inver. 'We are delighted to welcome Keith Cronin and his staff to the Inver network family,' said Ben. 'Inver's community commitment through Leading lights, our strong brand, pricing and exemplary customer service continues to resonate within the market place.'
Inver are branding the three forecourts owned by the Mulrooney family in Nenagh, Roscrea and Portumna, in December" said Ben Lenihan. 'It is an incredible way to close the year and consolidate a wonderful relationship we have with the Mulrooney family.'
Sean Mulrooney explained that the deal was in the pipeline for around 18 months as part of their overall strategic plan to continue to develop their business. They are creating a first-class customer experience within their communities and Inver was a perfect fit to help them achieve this. "Our sites were performing well but we knew we needed a strong vibrant and growing brand to take us to the next level and that's why we chose Inver" said Sean. He went on to say that "Inver's reliable brand name above the canopy will play an important part in attracting customers to our sites. Their commitment to their customers and our community also played a key role in our decision making. We are a family business and we can see that Inver shares our values and commitment.'
'It is very gratifying to see the brand and the Inver Advantage resonate with the forecourt owners of Ireland,' noted Ben. 'We welcome all our new forecourt partners. We look forward to working with them and our existing forecourt partners next year. Inver's sales team are excited to meet and present the Inver Advantage to potential partners in 2020. On behalf of all of us at Inver, I would like to wish everyone a safe and happy Christmas and New Year!'