O'Farrell's Salthill nominate Salthill / Knocknacarra Cardiac First Responders as their Inver Leading Lights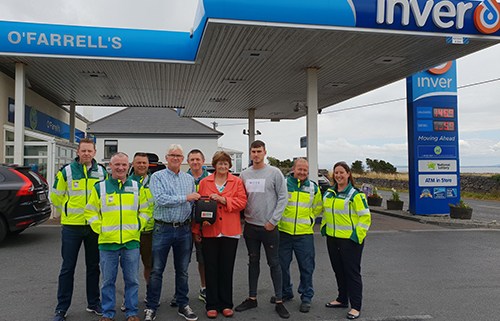 Salthill / Knocknacarra CFR is a100% voluntary organization  and they operate in conjunction with the National Ambulance Service to provide a rapid response to victims of Cardiac arrest, chest pain, choking and stroke in the local area.
The aim of the group is to provide life saving interventions such as CPR and defibrillation to victims should an ambulance not yet be at the scene or to provide assistance to the ambulance if they are present. Approximately 5000 people die from Cardiac Arrest every year in Ireland. 70 – 80% of cardiac arrests happen in the presence of family. The survival rate of a out of hospital cardiac arrest is 5.2%
Early CPR and AED treatment in the first 5 mins can produce survival rates of 49% and as high as 75%. Valuable minutes are lost if CPR is not initiated. Salthill / Knocknacarra CFR aims to save lives in the community by local volunteers providing  this invaluable emergency assistance.
In the photo are 3 Generations of The O Farrell Family Mary, Sean and Cian with some of the wonderful Responders from Salthill /Knocknacarra CFR.  The O'Farrell family  have provided Salthill/Knocknacarra and beyond with excellent motor services and fuel for over 50 years from their Forecourt and Grocery Store on Knocknacarra Road.
'We would like to sincerely thank the O Farrell Family who in association with Barry & Inver Community have very kindly Sponsored a Defibrillator to Salthill / Knocknacarra Cardiac First Responders.'