Inver hosts the 2017 Dealer Conference at Thomond Park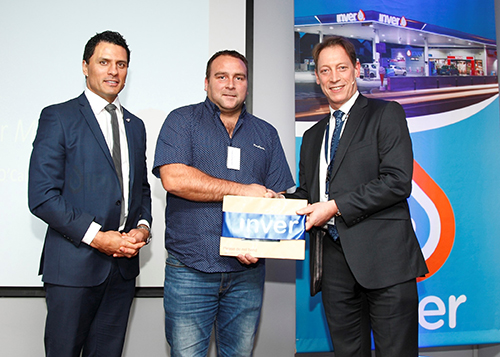 Chris O'Callaghan and Doug Howlett from Munster Rugby presented the prize of one year's pump maintenance to JP Collins from Inver Tarbert. Co. Kerry.
Thomond Park, home of Munster Rugby, in Limerick was the venue for Inver's 2017 Dealer Conference. The Irish forecourt market is facing changing market dynamics and and Inver is well situated to meet those changes following Greenergy's acquisition of Inver. Inver's CEO, Chris O'Callaghan shared the company's business and marketing strategy for the future with attendees and introduced Andrew Owens, CEO of Greenergy, who gave Inver's forecourt partners a detailed overview of Greenergy and the positive benefits resulting from the acquisition.
A varied selection of speakers from Inver and Greenergy's management team spoke on the day joined by guest speakers. The Speakers created an informative, inclusive environment with the attendees. Ben Lenihan, Inver's Retail Director noted, "This event continues to provide our forecourt partners with the opportunity to network throughout the day, get advice and create new contacts.
Chris O'Callaghan, Inver's CEO, said 'Thomond Park is an outstanding location for Inver's Dealer Conferences and this year attendance more than doubled from last year. That's a clear demonstration our forecourt network is continuing to grow rapidly. It's always a pleasure to host our forecourt partners and outline to them the new changes in the company and the tangible expansion the forecourt network is continually achieving.The relationship with our forecourt partners remains important to me and to the company and that will not change as the company increases in size.
Inver is an Irish company and we are fully invested in giving back to our local communities. We continue our investment in S.T.E.M education through our funding of TechSpaces around Inver forecourts and the annual Creative Techfest festival. Munster Rugby Junior Supporters Club sponsorship has reached its capacity goal of 5,000 children for 2017 and the number of families back attending matches is hugely gratifying. Inver's new sponsorship 'Leading Lights' has launched and we are successfully sponsoring local endeavours around all Inver forecourts @invercommunity shares those uplifting stories.'
In his closing remarks at the conference, Chris O Callaghan, reiterated Inver's commitment to the brand and to the dealer network with the support of Greenergy and informed delegates that continued growth is a fundamental part of Inver's strategic plan for the Irish retail forecourt market. He stated "Inver will work with local partners who have the vision and capability to provide modern forecourt retailing to their local community and I look forward to hosting next year's dealer conference."